EggRider Display firmware update using Google Chrome browserLink
Attention
It is highly recommended that you update your firmware when you receive your EggRider.
Display firmware is available in the downloads area or by selecting Downloads in the About page of the EggRider app.
Attention
This works only with Google Chrome browser and requires Bluetooth Low Energy device.
We successfully tested on PC, MAC, Android and iPhone.
Steps to updateLink
With EggRider Display off, press Up

+

Power until it shows EggRider Updater screen
Go to Downloads section
Select the latest eggrider_fw_v_xx_stable.zip (firmware version)
Do not extract
Go to Firmware update website (Make sure to open in Chrome)
Select Choose a firmware package
Select the previously downloaded .zip file
Choose Select device
Select EggRiderBL from the list and tap Pair
Wait until update is finished and display restarts
Attention
If the update hangs, power off from the battery or unplug the cable and restart procedure.
EggRider Updater screenLink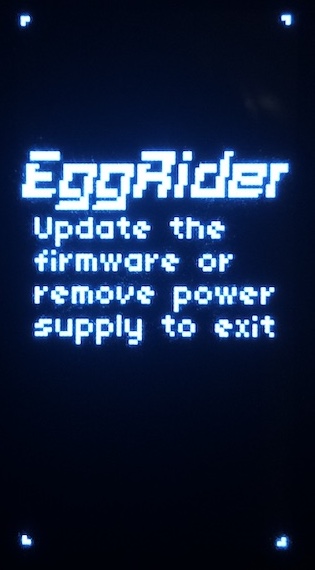 ---
Last update: March 19, 2020