Lishui settings page
Attention
If speed shows --.- km/h on EggRider display, please reset to default factory settings with the following procedure When the display is off, press M+Power until display turns on. (You should see Load default settings)
Important
If you received your display with an adapter please make sure it is connected correctly.
Wrong connection can damage the display and the bike.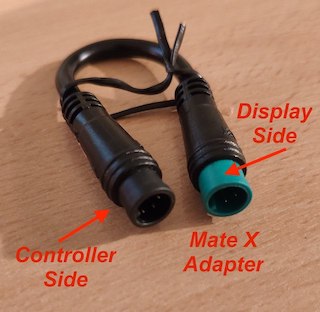 Please check:
Settings example
Attention
Make sure to change Current limit according to your controller parameters. Usually they can be found on the controller label.
If you want to increase the speed limit above 41 km/h, you can change wheel size to 16" on the Lishui settings page. This change will affect all speed limits.
If speed measurements don't seem to be correct, please use wheel circumference from Display settings page to adjust.
Mate X 750W Taiwan version
Mate X 750W Taiwan version
---
Last update: April 26, 2021