downloads area or by selecting Downloads in the About page of the EggRider app.
Please make sure to put EggRider display in update mode when doing the update procedure!
With EggRider Display off, press Up+Power until it shows EggRider Updater screen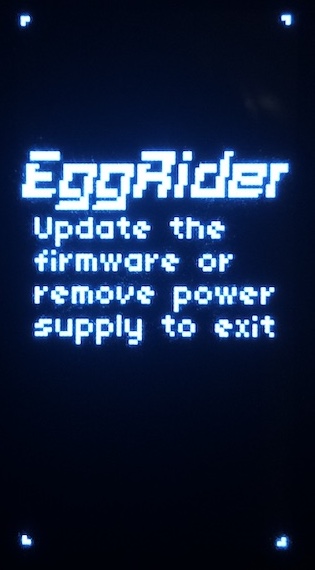 Update instructions for versions V2.5.xx +
Attention
Because of the many changes in some of the core functionalities we recommend following the steps bellow for a smooth transition. We tested the update from firmware version >= v2.4.11. It should also work from older firmware versions but we recommend doing a reset to defaults afterwards.
To have access to all the features you need to use in conjunction with app >= v2.5.03
Backup your settings and ODO stats (in rare cases they can be lost)

Check if any of the ODO Total KM, Wh or Ah are different than before, as highlighted in the picture above. If so we recommend to reset ODO from Display Advanced settings
To use the new features like change Display Main screen layout (with app >= v2.5.03), after update make sure to rescan for device (disconnect if already connected) and check that version shown is v2.5.23 as in picture bellow

If you had to reset the ODO you can use the ODO distance offset to input the old ODO distance
We recommend checking the battery specifications. For Battery Voltage 100% in display settings we now required the full battery voltage for a better battery estimation. For example, for a 48V battery it should be 54.6V. You can use the helping predefined selections if not sure. Also for Capacity (Ah) you might find that lower values than the manufactured declared capacity might work better. This --is-- because in time the battery degrades but also because sometimes the voltage cutoff is higher.
How to update EggRider display?
---
Last update: January 6, 2022